Ch ch ch ch ch cherry bomb
I'm sure I don't need to tell you about this brand as it is most people's go to for dry shampoo. Batiste has quickly become the working/lazy girls best friend for those days when your hair needs a bit of something but you just don't have the time to wash it. And now in steps Batiste's latest offering, in the uber delicious Cherry scent. For those days when you want a little fruity smell to your hair, yum. When I heard about this product I knew I would be adding it to my collection, as I personally love the smell of cherries. It offers such a lovely fresh fruity smell, without being too overpowering and I think it's a great addition to the range. I love the cute kitschy packaging and I definitely think there's a nail art design in there!
As with all Batiste dry shampoos, this one adds some oomph to your hair and I absolutely love it for adding some volume to my hair. I also find it really helps to sort out my fringe. You can either be quite liberal with how much you use, if you're really trying to add some volume, or I find if you spray a tiny bit on your fingers, you can rub it in to the front of your hair to sort out your fringe.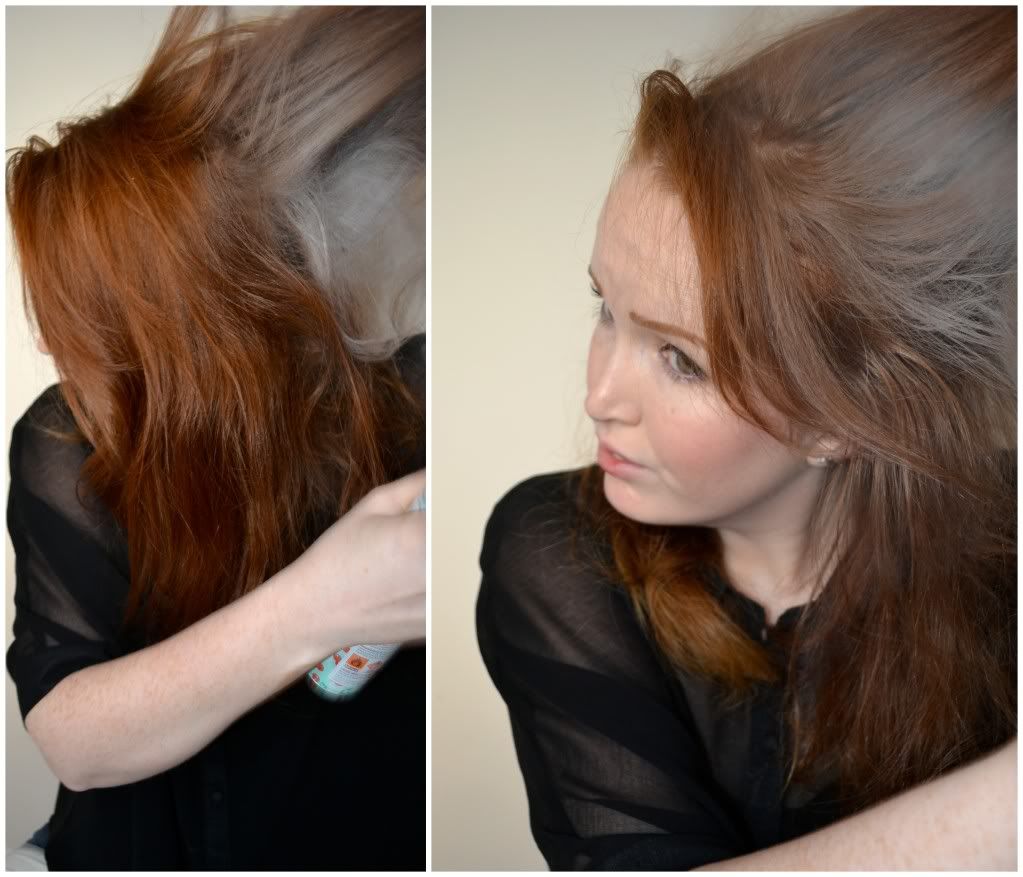 Here are some amusing photos of me going to town putting Batiste in, I thought you would enjoy them. On this occassion I was really looking to add a lot of volume to my hair so it would also be more manageable. Does anyone else find that they can style their hair much easier with some Batiste in? I think it adds a bit of weight to the hair and then my hair isn't so all over the place.
As you can see in the before and after, it's helped to add a lot of volume to the front parts of my hair and also helped to sort out my fringe. It's no longer stuck to the side, my fringe is now exactly where I want it! Phew! It really is so easy to use, and perfect for when you're in a rush. In the photos I literally hadn't done anything else to my hair and it helped it look so much better, with very little effort. (Pssst, this was before I had my hair cut so I had a lot of dry ends, forgive me.)
I personally think Batiste is a fantastic product, I now how 5 different bottles from the range, cause a girls got to have options you know. It's really a must for us ladies with fringes but it also really helps to add volume without backcombing your hair. All this for just £2.99! What more could you ask for?!
I've also just seen on the Batiste website that they are running a competition to win some Cherry Louboutins!
Click here to enter
, I know I will be!
♥
Disclaimer: I was sent this bottle for review purposes, but as always my opinions are 100% honest. This is a product I would buy myself. I just stumbled across the competition and thought I would share the love!